Does expert knowledge on COVID-19 need to be more accessible across the globe? This article explores this issue and addresses how greater accessibility could help fight the pandemic in emerging countries.
The COVID-19 pandemic, caused by the SARS-CoV-2 virus, has had an unprecedented impact on people and economies across the globe. While the pharmaceutical and biotech communities have risen to the challenge by expediting research, repurposing medications and focusing on novel drug discovery and development, COVID-19 continues to spread and affect areas where experts and research are not as easily accessible.
In this article, Drug Target Review's Hannah Balfour explores the obstacles for emerging countries with regards to the pandemic and highlights key points from a report that calls for democratised access to COVID-19 expertise.
Research is vital for effective health policies
Throughout the pandemic, countries have adopted a wide range of strategies to reduce the transmission of COVID-19. Lockdowns, curfews and periods of isolation for people with confirmed or suspected coronavirus have been some of the most common measures implemented. However, the exceptional nature of the pandemic has meant that policy makers have had to 'feel' their way through the pandemic, with decisions hinging upon the research and knowledge of experts they can access or assessments of how measures implemented by neighbouring countries are working.
This approach has not been limited to virus containment strategies; it has dictated the implementation of clinical best practices and impacted which pharmaceuticals are approved for COVID-19 indications.
The majority of institutions researching COVID-19 are based in China, Western Europe and the US (see map below), which has led to whole continents and many emerging countries having limited access to experts and research to advise these policies. China, Western Europe and the US are also running the largest numbers of clinical trials and are therefore at the cutting edge of clinical best practice.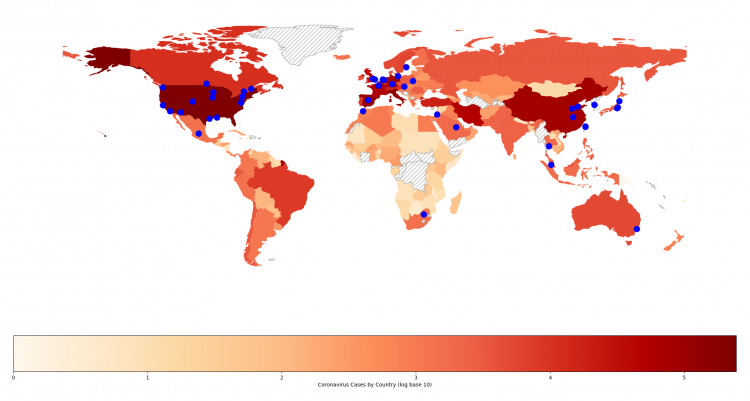 A map of the number of cases of COVID-19. The main institutions (blue dots), who have worked on coronavirus as of 3 April 2020 [credit: techspert.io].
Unsurprisingly, in countries with restricted access to the latest research, the number of confirmed cases continue to rise. Conversely, several countries with many institutions researching COVID-19, including China, are perceived to have entered the recovery phase from the virus with cases expected to gradually decline aside from instances of sporadic infection.
Brazil, for instance, is reported to have the second highest number of active cases (over 1.6 million) and deaths (almost 65,500) globally, but only six institutions in South America are currently reported to be conducting research on COVID-191. Peru and Chile also appear within the top 10 countries with the most confirmed cases of COVID-192 (data correct as of 7 July 2020: S).
All African countries now have confirmed cases of COVID-19, with deaths beginning to be reported, and the World Health Organization (WHO) predicts the continent will experience 250 million cases in all; however, a recent report was only able to identify four research institutes outside of the Middle East conducting research on COVID-19.
Interestingly the US contradicts this trend, having one of the highest outputs of COVID-19 research and nearly three million confirmed cases as well as just over 130,000 deaths due to COVID-19, both the highest globally.